Search Engine Optimization
You are here not by accident!
and we believe that you searched for search engine optimization Web Development in India or search engine optimization Web Development in Canada or Singapore or seop Canada on google.
Now that you found us, i am sure you are convinced that we can similarly help you and your business gain higher visibility by optimizing your website which will ultimately result

in higher sales.
Is that so simple? Well, professional search engine optimization is a science as well as an art. And there isn't one simple solution which can fit all. We analyze your keyword requirements, your competition, your website structure and accordingly design a customized package which can fetch you guaranteed results. Yes, guaranteed results are not just sales talk. We mean it. You are welcome to test us, or talk to our satisfied list of clients. They will surely speak for us.
Our Organic Search Engine Optimization Techniques: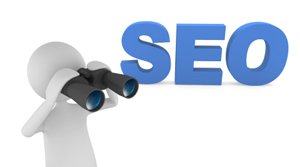 We have classified our Search engine marketing (SEM) and Search engine optimization ( SEO) into two segments Onsite and Offsite. The following diagrammatic representation will give you an overall idea about different tasks involved in each segment.

If you are interested in a keyword analysis as well as a quotation for better placement of your website in Google, Yahoo or MSN, click here.


Search Engine Placement and Search Engine Marketing
Search engine optimization (SEO), considered worldwide to be a subset of search engine marketing, is a terminology used to describe a process to improve upon the volume of traffic to a web site from search engines, typically in "natural" ("organic" or "algorithmic") search results. Many site owners and SEO (Search engine optimization) consultants attempt to pursue qualified visitors to a site, and the nature of visitor traffic can be analysed by how often a visitor using a specific keyword phrase leads to a desired conversion action, such as making a purchase, viewing or downloading a particular page, requesting additional information, signing up for a newsletter, or making some other specific action.

In a broad sense, SEO (Search engine optimization) is marketing by understanding how search algorithms work and what human visitors might search for, to help match those visitors with sites offering what they are interested in finding. Creating web pages with SEO (Search engine optimization) in mind does not necessarily mean creating content more favorable to algorithms than human visitors. Some SEO (Search engine optimization) efforts may constitute optimizing a site's coding, presentation, and structure, not making very noticeable changes to human visitors, such as incorporating a clear hierarchical structure to a site, and avoiding or fixing problems that will keep search engine indexing programs from fully spidering a web site. Other, more detectable efforts, of Search engine optimization process constitute adding unique content on pages that can be readily indexed and extracted from those pages by search engines while also appealing to human visitors.
forward to talking with you
Where should we start The Search Engine Optimization process:
The important place to start your seo (search engine optimization) process is with the basic design of your web site. Invariably approach the design of a web site with the prime interest of your target audience in mind. Without exception, remember - they do not know as much as you do on the subject matter you're discussing. If you do your duty properly, the web site becomes a depot for your knowledge, and a resource for your target audience. They become clients for the information you published, and then customers for your goods or services.

When you have a proper web site design in place, a proper search engine optimization regimen will properly discipline every aspect of your web site for promotion to the search engines. This means that all search engine markers are planted in place, and any search engine barriers are removed. It also means that all the important content that has been placed on the page, as well as on the web site, are easily found, contextually reviewed, and properly utilized to promote the web site in the search engines.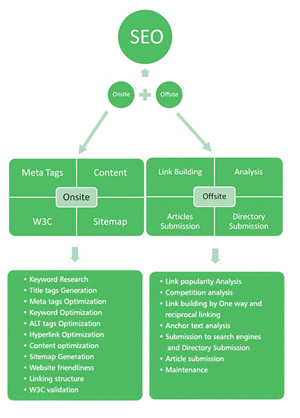 A mature SEO (search engine optimization) plan will:
Explore to promote your web site based on the content of the site;
Utilize data of how the average search engine user exactly looks for information on your site - together with alternative terms, synonyms, common phrasing, etc; Include the creation, or insertion of a search engine optimized relevance based reciprocal links network to your site;
Follow up on the preparation period with scheduled search engine submissions, promotional tools, and some methods of reporting your success, usually a statistics report.

Let us look at India Infosoft's SEO (search engine optimization) service:
India Infosoft will promote your website to assure proper coverage in search engines representing 90% of the world's search traffic. Proper coverage and exposure for your key phrases raises a website's fair chance of being found by customers seeking a website's products or services. More targeted customer traffic to your website increases the likelihood of additional sales.

When you opt India Infosoft as your search engine optimization firm, you are investing your online success with a company that has wealth of experience to draw upon, and strives to ensure your business is properly tuned and prepared to succeed in the search engines.

Strong overall search engine positioning helps your business to be identified as a market leader. A targeted strategy offers better profits than traditional media campaigns. The wonderful part about an online strategy is that it allows for an accurate and meaningful measurement of results and ensures a superior ROI on your advertising budget.

Consulting and Support at India Infosoft:
India Infosoft believes in one-on-one, personalized customer support - an absolute requirement in business. We understand that the subject of Search Engine Optimization (SEO) and Website Optimization is a new territory, and foreign to most. Our philosophy is that the process should be as educational as you would desire it to be. We will walk through each step of the process, explaining each step in as much detail as you request.

Our SEO (search engine optimization) Technicians are extremely well versed in both identifying any SEO (search engine optimization) barriers that prevail on your website, and in removing those barriers for you. This helps you to concentrate and manage other areas of your business.

Ongoing Monthly Updates from India Infosoft:
A key step in the organic search engine optimization process is to continue the optimization via ongoing monthly updates and we take care of our clients and ensure they make profit in the long term, not just for a few months. Ongoing monthly updates include the following four steps as part of our search engine optimization service:

Website Analysis (monthly), Website Optimization (monthly), Search Engine Submission (monthly), Search Engine Progress Reports (quarterly)